Darryl Willison is creating art for the love of Route 66
Darryl Willison is arguably one of Albuquerque's most recognizable artists. Spanning over twenty years, Darryl's career has produced a signature style. His work can be seen in galleries, museums and restaurants all over New Mexico. Darryl even has art in the White House!
Once known for his cowboy themed paintings and pastels, Darryl's work has evolved. He now specializes in steel sculpture – which he creates with a plasma cutter and describes as "drawing with fire". Darryl also creates designs for gift items such as tee-shirts, coasters, wall art, and bumper stickers. All of his designs are original and still drawn by hand.
Currently, my favorite Darryl Willison art pieces are these absolutely fantastic saw sculptures.​
Preserving the history
Darryl Willison is the director of merchandising for the New Mexico Route 66 Association and his lifelong love of Route 66 shines through in his work.

When asked about his fascination with The Mother Road, Darryl says:
"Route 66 is steeped in the rich history of this country and represents the heart and backbone of the people who live here. Families would get in the vehicle and enjoy the landscape without the distraction of electronics. You enjoyed the ride because the road was the destination. As the older generation passes away, it's like a library burning to the ground and this history is something we can't afford to lose."
Bringing history back to life
Albuquerque's Central Ave. is a living and breathing stretch of historic Route 66 and New Mexico hosts the longest stretch of Route 66 in the country.
Along this main drag are numerous roadside motor lodges, many built in the 1930's that have since fallen into various states of disrepair, some have even been abandoned and become derelict.
When it was built in 1937, the El Vado Motel was one of New Mexico's first motels to greet Route 66 travelers. In more recent times, it had been rundown and was considered an eyesore and all around dangerous place to be (though I believe it made an appearance in an episode of Breaking Bad)
Fortunately, the El Vado was rescued by the city and in 2017 it was renovated into a beautiful commercial space hosting many shops and restaurants as well as a boutique motel for those who want to spend a night on The Mother Road.
I wish I had photographed the El Vado prior to it's renovation, just to show the before and after. What I remember was a boarded up motor lodge in a lot overgrown with weeds and enclosed by a razor wire chain link fence. Needless to say, the transformation has been incredible.
---
Darryl Willison opens Merc 66 in the newly renovated El Vado Motel
Never content to sit quietly behind the scenes, Darryl Willison is not only an artist but also an entrepreneur. Recognizing that functional gifts meet the needs of travelers, Darryl's latest venture is a fun and quirky gift shop full of one-of-a-kind creations that are not only decorative but also serve a purpose.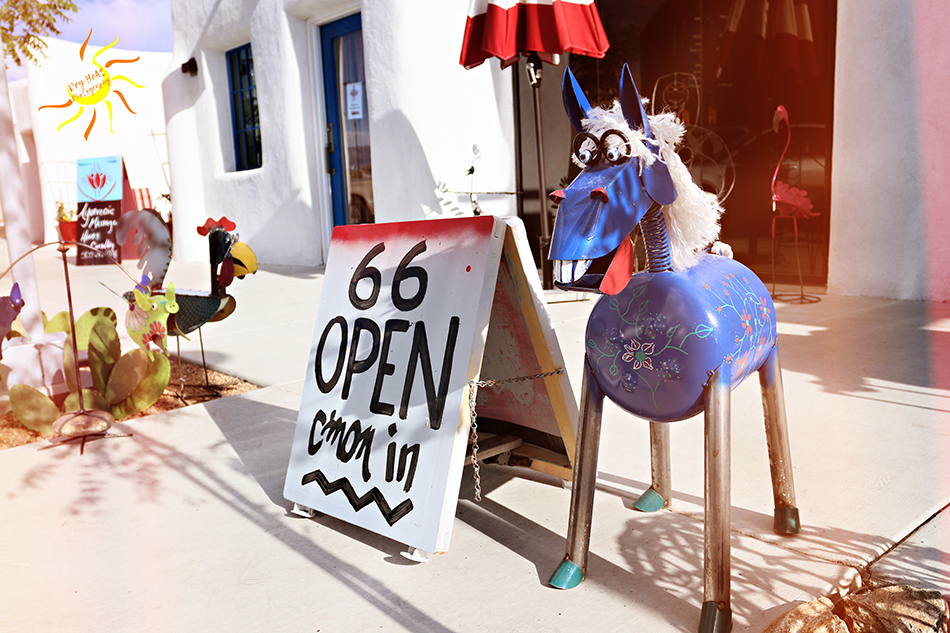 Merc 66 is part of the newly renovated commercial space at the El Vado Motel located at 2500 Central Ave SW in Albuquerque. It is walking distance to Old Town and is right across the street from the Botanical Garden.
Merc 66 is actually a co-op. It features numerous "Darryl" creations and those of other artists as well. All of the artists have a vested interest in the success of the shop.
Merc 66 has a tiny boot print, occupying only 350 square feet, but there is no wasted space here. The selection of products is impressive and every explorer of The Mother Road is likely to find the perfect souvenir.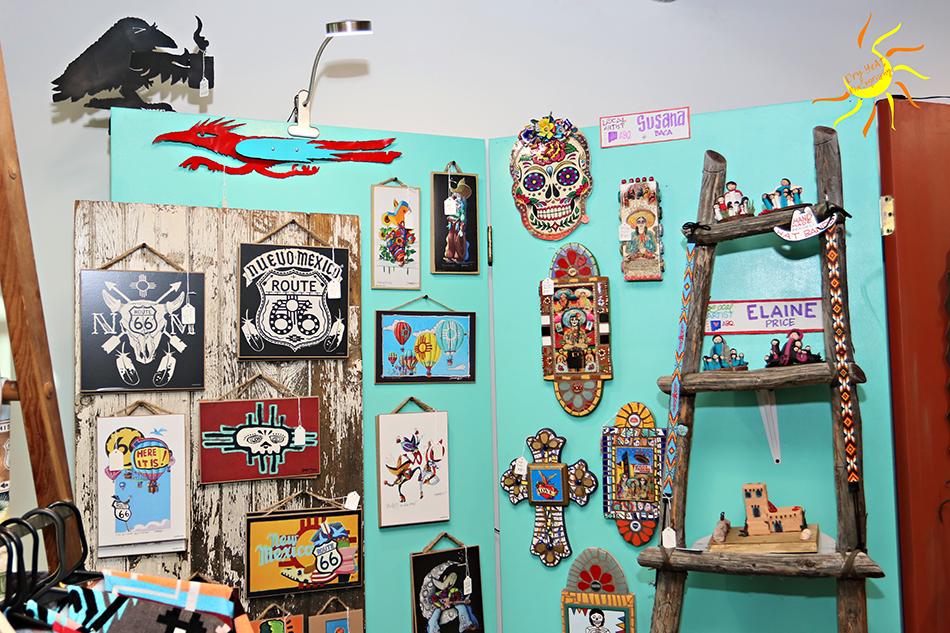 ---
In addition to wall art, there are tee-shirts, coasters, bumper stickers, refrigerator magnets, and much more. Like I said, something for everyone!
For more information about Darryl Willison, visit his website at DarrylWillison.com and be sure to "like" Merc 66 on facebook and Instagram. Merc 66 merchandise is also available online and can be ordered at www.Merc66abq.com. If you're traveling through Albuquerque, don't forget to book your room at the El Vado Motel.
Other venues to buy Darryl Willison's art
As previously mentioned, Darryl has work everywhere! Be sure to visit these other local venues to see and shop for more original artwork by Darryl Willison.
Blue Moon Marketplace, Brown Bear Gallery, Albuquerque Museum, Taos Artist Collective
This post originally published in May 2018.