The Abandoned Sears & Roebuck house in Estancia, New Mexico
The abandoned Sears and Roebuck kit house in Estancia, New Mexico is a must see location for any ghost-town-crawling photographer. It had been on my bucket list for a long time.
An American legacy lives on
Most of us still remember the Sears Catalog; an overweight boat anchor of book that would break the backs of postal workers and give them shin splints. But did you know that back in the day you could order an actual house from the Sears Catalog? It sounds crazy but it's true!
​From 1908 until 1940 Sears offered a variety of "kit homes" that ranged in price from around $700 up to about $6000. The homes came in all shapes and sizes and they had options for every budget. During this time Sears sold over 70,000 kit homes, many of which are still standing (and inhabited) today.
Sears first opened its doors in Chicago, IL in 1893. They went on to have stores in just about every mall in America and sold everything from appliances and jewelry to clothes and car tires. After 125 years in business, Sears filed for bankruptcy in 2018.
A "haunted" landmark in Estancia, New Mexico
The house was originally purchased and built in the mid 1920's by Fred Ayers. While researching this project, a Twitter friend of mine who lives in Torrance County, @rural_mtn_life, sent me a link to a newspaper archive of the Estancia news-herald. This paper is dated December 29, 1921 and, if you look toward the top of the far left column, you'll see an ad for Fred H. Ayers, Attorney and Counselor at Law.
Fred Ayers died in 1966 at the age of 89, he is buried at the Estancia Memorial Cemetery. The property is still owned by the Ayers family. They clearly no longer live there and the house is well past the stage of being a "handy man special".
According to the locals, this famous abandoned house in Estancia is haunted. People say they drive by and see ghosts standing at the windows. I wish I had seen something to substantiate these claims but all I saw was an empty house and some ladybugs. It certainly looks haunted though. I mean, if you did a Google Image search for the term "haunted house" this is exactly what you would expect to see. I will say that there is a torn piece of curtain flapping around in the upstairs window on the right hand side. At a glance, it could look like a figure standing there. Additionally, I wouldn't want to spend the night in that house… um, heck no!
Can an abandoned house actually be good for the local economy?
Personally, I'm of the opinion that boosting the local economy in Estancia is probably a good thing. If a scary old abandoned house lures tourists to visit and if they also stop for lunch and buy a tank of gas then all the better.
That being said, this house is on private property so be respectful, and stay on your side of the fence.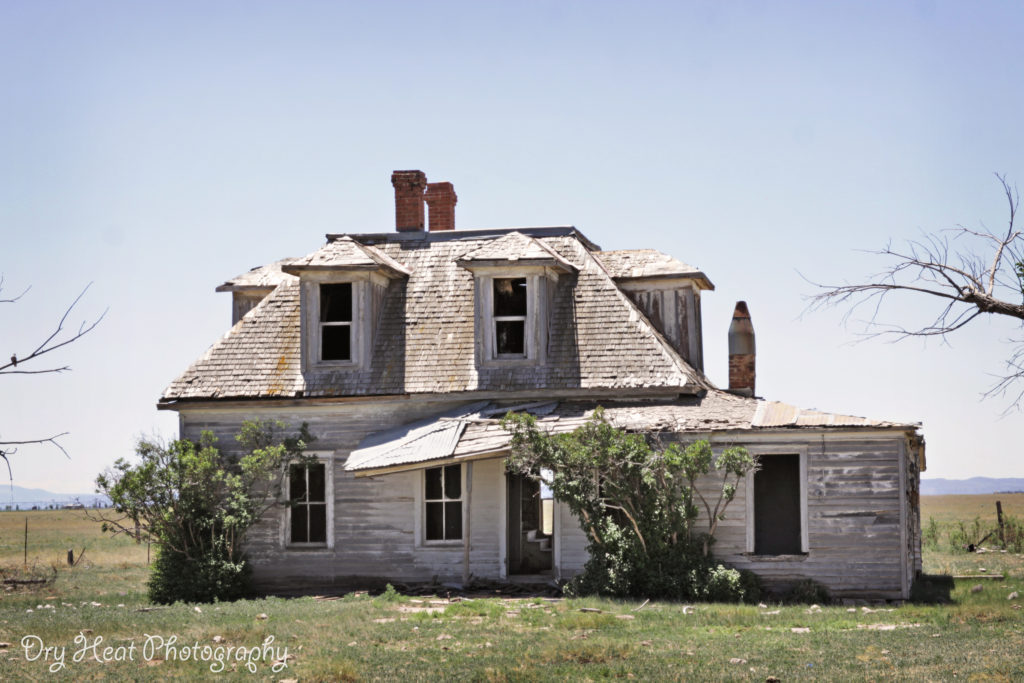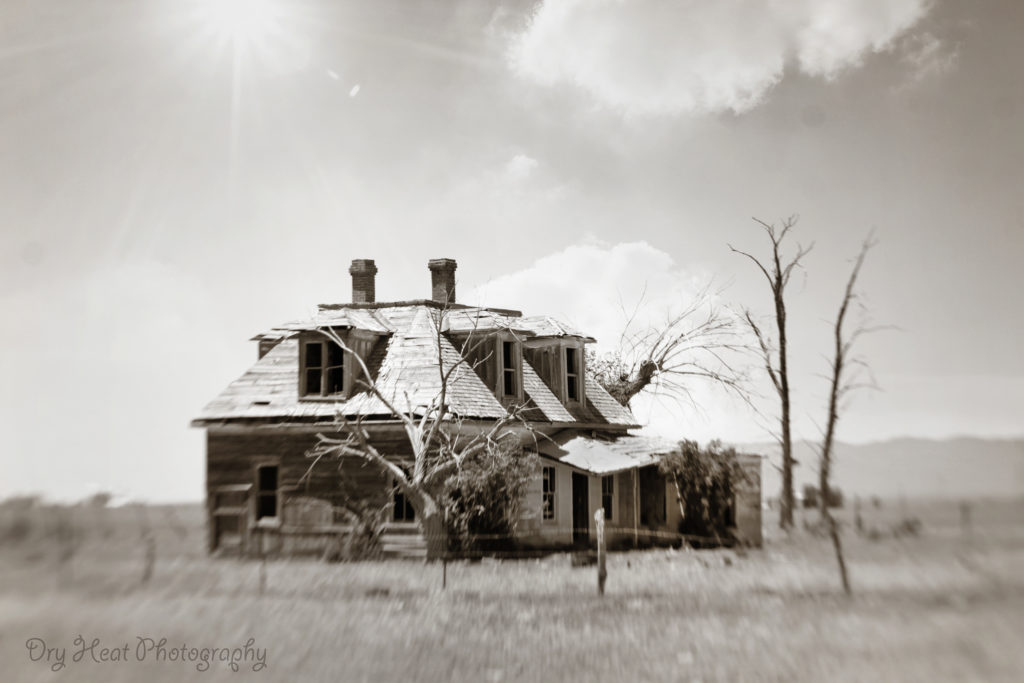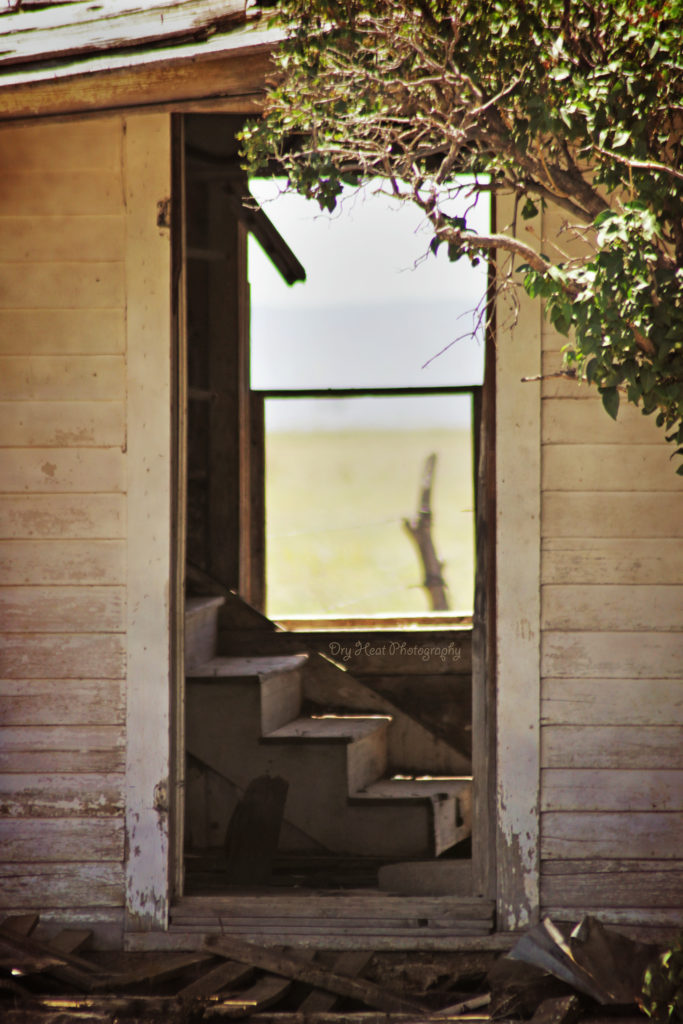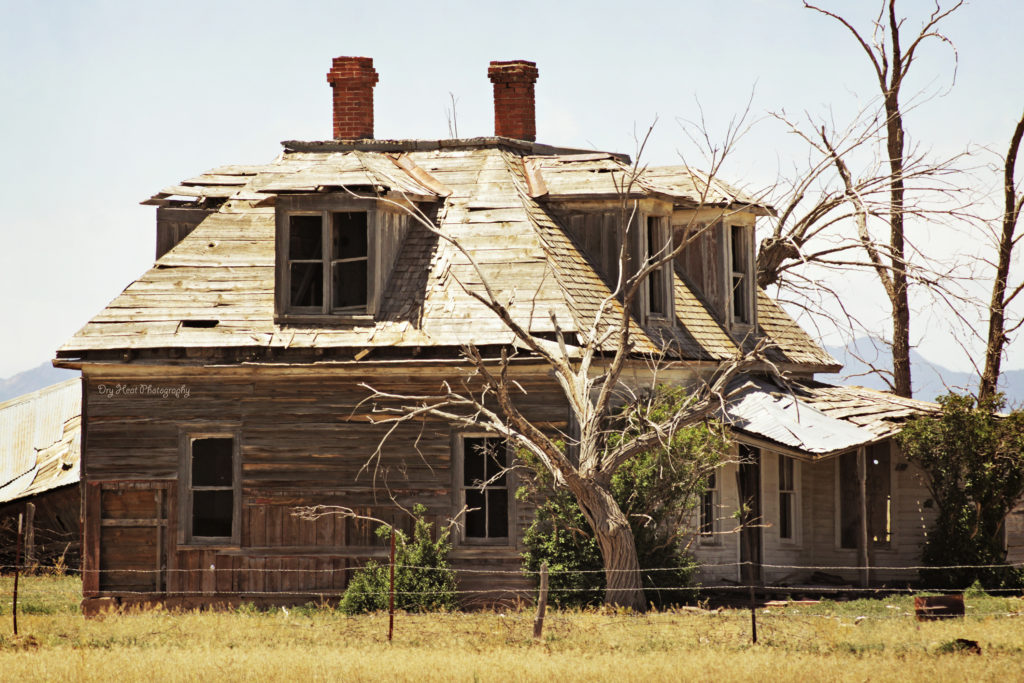 5th Street in Estancia, New Mexico
A piece of Americana
An American flag flies from a lamp post in front of Gustin Hardware. 5th Street in Estancia, New Mexico is a perfect slice of Americana, a classic main street in small town America. My husband and I visited Estancia on Sunday of Memorial Day weekend in the midst of the COVID-19 pandemic. The good news is that social distancing was not a problem because there was not even one business that was open and we encountered no other people. Unfortunately, that was also the bad news because there were no public restrooms available and, you know, a gal on a road trip inevitably needs to pee.
The town of Estancia was founded in 1902 with the arrival of the New Mexico Central Railroad. Estancia is the county seat of Torrance County and the 2010 census reported a population of 1,655.
Torrance County Co-op Feed & Hardware Store
Once again referencing the newspaper archive, about half way down the 3rd column from the left is a listing for the Estancia Valley Flour Mills and the various goods they provided. It is possible that in 1921 this place started out as the Estancia Valley Flour Mills but I haven't been able to confirm that as a fact.
What I was able to confirm is that these structures were more recently known as the Torrance County Co-op Feed & Hardware Store. The big mill-looking buildings were used to store dry pinto beans. In the 1960's many of Estancia's young people were employed here as bean packers. A change in environmental conditions brought on by drought eventually caused the crops to change from beans to corn and milo.
There are several buildings on this property. There is a red barn, a garage and a little building that may have been an outhouse or a ticket booth. Across the street is an abandoned train car.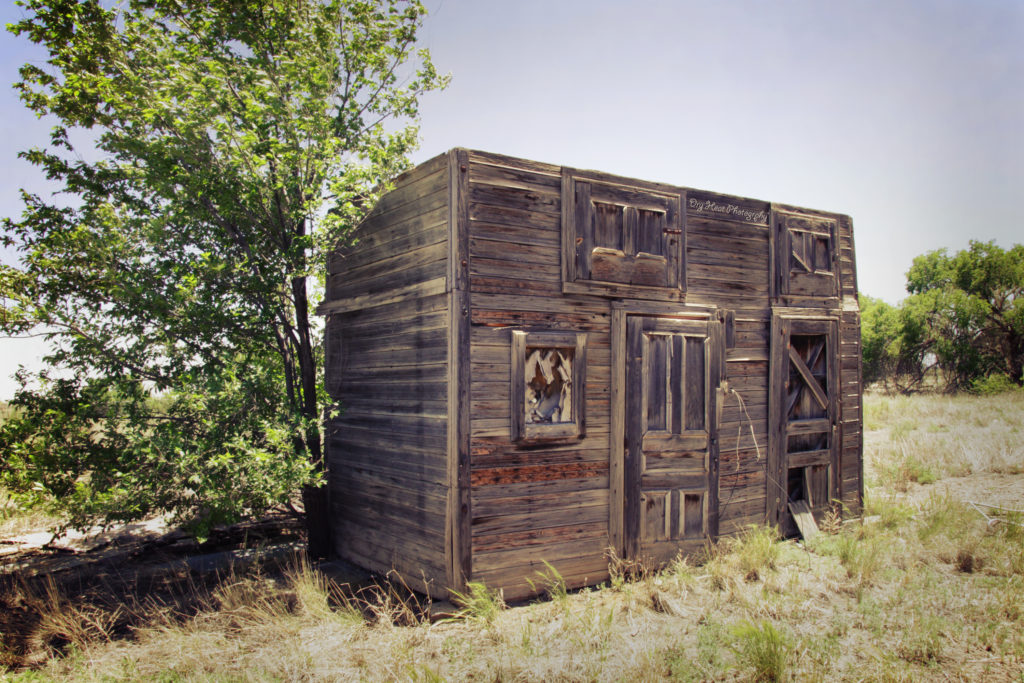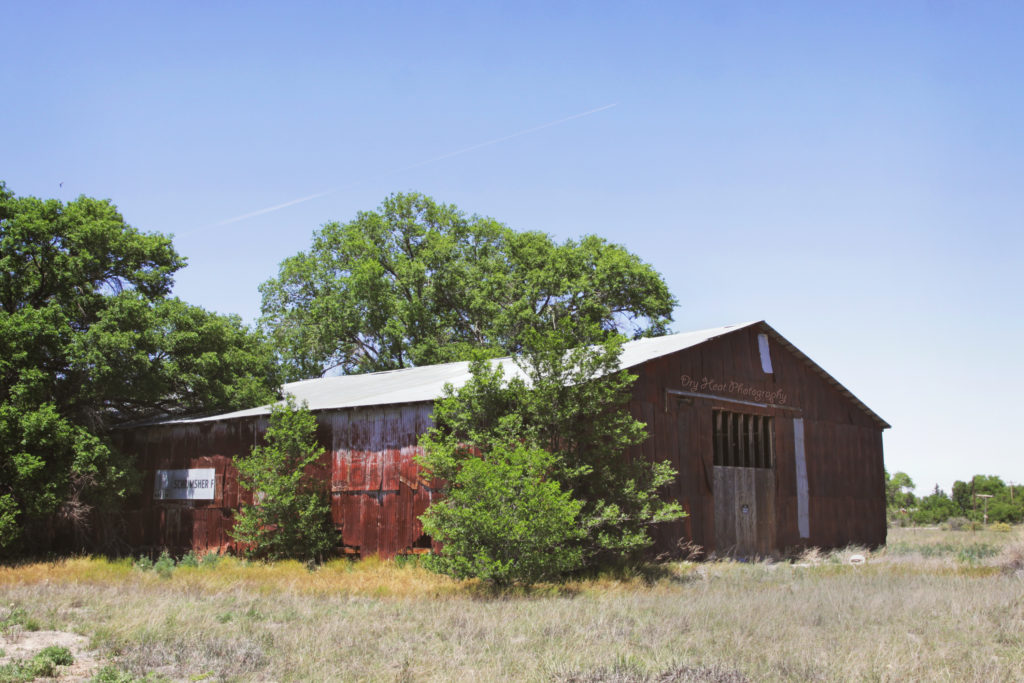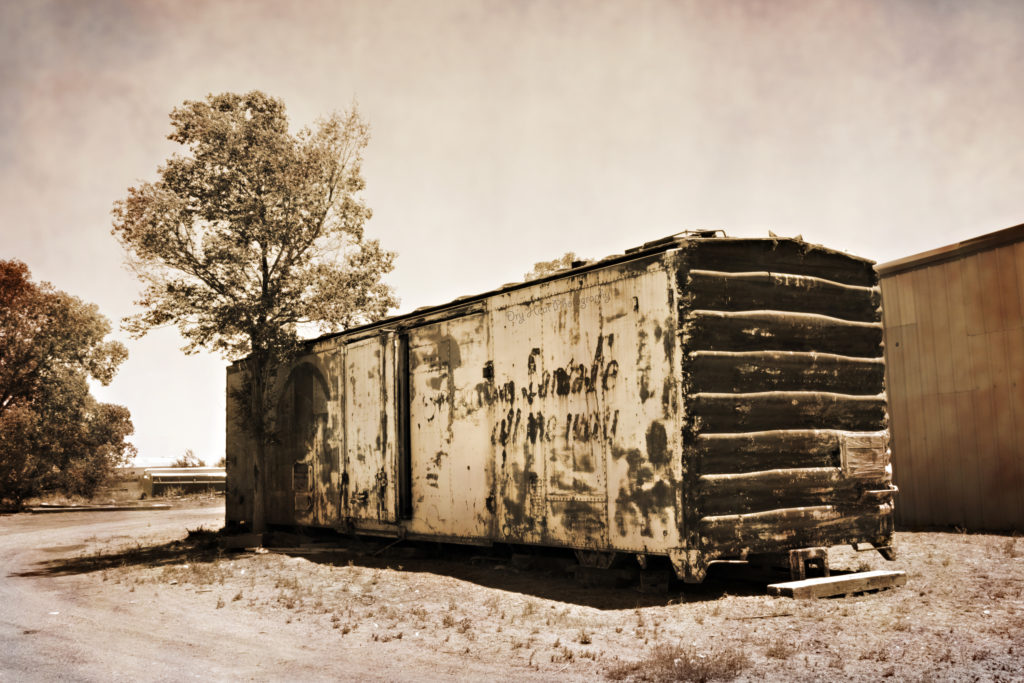 Driving directions to Estancia, New Mexico
Estancia is located on the east side of the Manzano Mountains, about half way between Mountainair and Moriarity. If coming from Albuquerque, go east on I-40 until you reach Moriarity and then head south on NM 41. If coming from Los Lunas, head south on NM 47, then go east on NM 60 past Mountainair and turn north on NM 41. The Los Lunas route will also take you past the Salinas Pueblo Missions National Monument, Ruins at Quarai and Abo.
These photos were shot on May 5, 2020 and originally published to the old Dry Heat Blog on May 26, 2020.