The Hub City
The city of Belen, New Mexico is a curious place. I grew up alongside Belen in the neighboring town of Los Lunas. My family moved to Los Lunas in 1982 and at that time Belen was a significantly larger town. They had big paved roads with sidewalks and traffic lights and even some department stores. In those days, Los Lunas had a whole lot of not much.
According to census records, in 1980 Belen had a population of 5,617 while Los Lunas only had a population of 3,525. Check out the chart below to see how the population of the two town's changed over time.
| | |
| --- | --- |
| Population of Los Lunas | Population of Belen |
| 1970 – 4823 | 1970 – 973 |
| 1980 – 5617 | 1980 – 3525 |
| 1990 – 6547 | 1990 – 6013 |
| 2000 – 6901 | 2000 – 10,034 |
| 2010 – 7269 | 2010 – 14,835 |
| est. 2019 – 7416 | est. 2019 – 16,061 |
As you can see, while the population of Los Lunas started out being much smaller than Belen, by 2010 it had swelled to over twice the size.
To drive around Belen today is to see a community with unfulfilled plans. Clearly, the infrastructure was put in place to support a city that was supposed to grow, but didn't. It seems the growth all happened in Los Lunas instead. I believe the reason for this has to do with the growth of the nearby city of Albuquerque. Albuquerque is the largest city in New Mexico. It sits almost right in the middle of the state at the crossroads of two major interstates: I-25 and I-40.
As the population of Albuquerque began to boom, people started looking for less expensive housing. When you drive south from Albuquerque down I-25, guess which city you come to first? That's right, Los Lunas. So guess which town became the suburbia of Albuquerque? If you guessed Los Lunas, you'd be right again.
Historic Railroad District of Belen, New Mexico
Belen was founded in 1740 by two Spaniards, Captain Don Diego Torres and Antonio Salazar. They named it Nuestra Senora de Belen, which is also the name of the town's oldest Catholic Church.
The railroad arrived in Belen in 1880 and brought with it a collection of service-oriented businesses such as mercantile shops, restaurants and hotels. The railroad became a centralized location in town and there they built a roundhouse, an ice plant and rail yards containing miles of track and a depot. Today, the railroad continues to be one of Belen's most vital industries.
Belen was first recognized as a municipal village in 1918, only six years after New Mexico became a state. Belen officially became a "town" in 1940 and was promoted to "city" status in 1966.
The Belen Harvey House Museum
I had planned to get all kinds of good photos of the Harvey House but on this day it was not possible. I visited the Historic Railroad District of Belen on Memorial Day (May 25th) of 2020 – right in the midst of the COVID-19 pandemic. Because of the state's Stay At Home orders, the Harvey House Museum was closed. The property is enclosed by an aggressive fence and bordered on three sides by private property owned by the railroad and on to which trespassing is discouraged. I got this one shot by holding my phone up over the fence and hoping for the best.
The historic Belen Harvey House first opened its doors in 1901, which is also the same year that its founder, Fred Harvey, died. Fred was born in England in 1835 and came to America at the age of fifteen. He got his first job as a dishwasher in a restaurant and worked his way up. In 1878 Fred Harvey began a partnership with the Atchison, Topeka & Santa Fe Railroad in which he was given exclusive rights to operate restaurants and hotels along the railway's routes.
The Belen Harvey House is only one of several Harvey House establishments in New Mexico. Check out this website for a list of the others. It's a long list. http://www.harveyhouses.net/states/newmexico/nmhouses.html
Not a soul to be found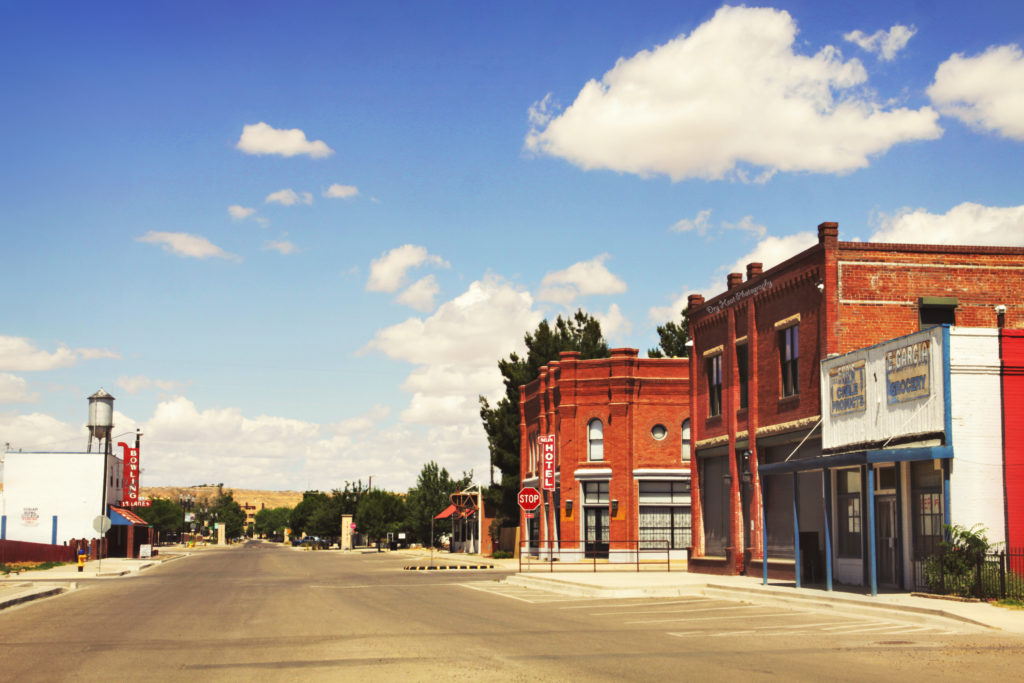 Walking through the historic railroad district of Belen, which is basically Becker Street, felt a little surreal. Did I survive the zombie apocalypse? Where is everyone? Hello? Bueller? Not that I was expecting to see lots of people, I just wasn't prepared to see no one at all. On the other hand, no cars and tourists mucking up my photos so hey, life is good.
The Belen Hotel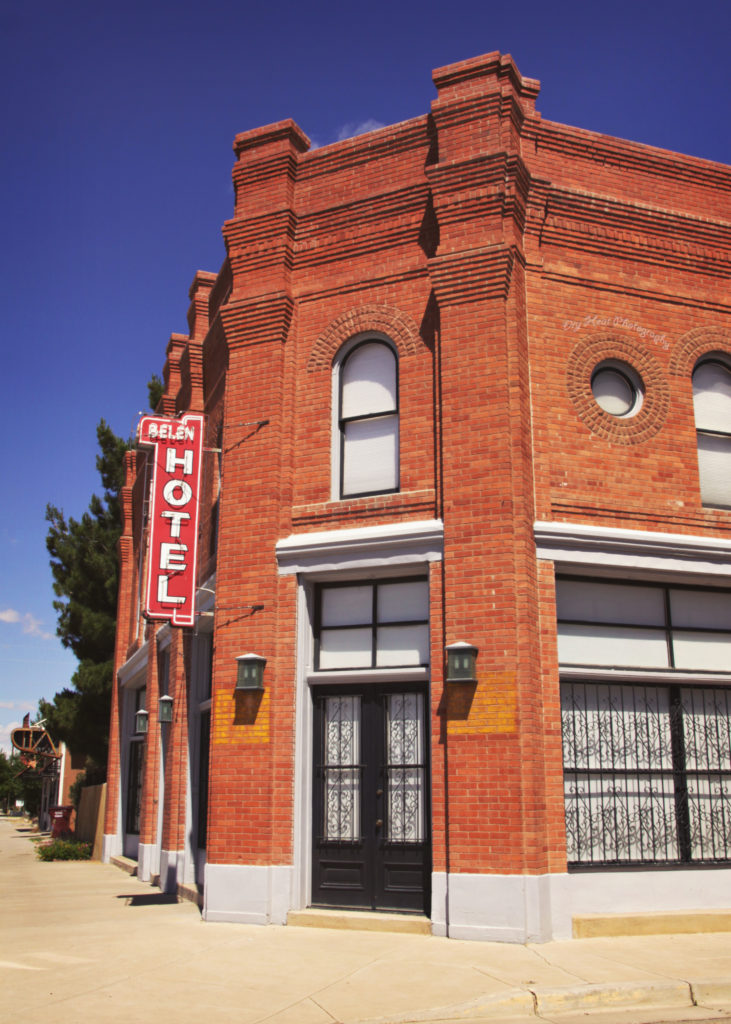 The side of the building reads, "Hotel Belen" but the sign says, "Belen Hotel", so which is it? Wikipedia calls it, "The Belen Hotel" so I'll go with that.
The Belen Hotel, located at 200 Becker Ave. in Belen, New Mexico was built by John Becker in 1907 for Bertha Rutz, his children's long time nanny. Bertha was a German immigrant and she ran the hotel and its cafe, which catered to railroad personnel, until her death in 1953.
In 1980 The Belen Hotel was added to the National Register Of Historic Places. Today, the Belen Hotel has been converted to a private residence. World renowned artist Judy Chicago and Donald Woodman spent three years on the renovations and have lived there since 1996.
Sugar Bowl Lanes Bowling Alley
When I visited the Sugar Bowl Lanes Bowling Alley on Memorial Day, I had no way of knowing about the impending disaster that was about to strike. But first, here's a little back story.
The Bowling Alley's namesake, Marvin "Sugar" Gildewell owned and operated Sugar Bowl Lanes from 1954 until 2008. Marvin died in 2009 and his wife, Eva Garcia Glidewell, died in 2013. Following Eva's death, their son, Marvin, inherited the property but he never re-opened it for business. Best I can tell, it's been vacant since 2008.
When I was there, the property was for sale but also condemned. I'm no home inspector but there was significant structural damage and the side walls were buckling because part of the roof had collapsed.
It all came to a fiery end in the early hours of July 12, 2020. A massive fire devoured the Sugar Bowl Lanes. As yet, the cause remains undetermined. The building is completely destroyed.
The late Sugar Bowl Lanes was located at 219 Becker Ave in Belen, New Mexico.
Becket Street Grill
The Becker Street Grill, located at 208 Becker Ave in Belen, New Mexico has a really great old-school sign out front. The grill was closed (obviously), but what wasn't clear was whether the closed situation was a temporary or a permanent condition. I was not able to find a website for the Becker Street Grill and the last post on their Facebook page is from 2015.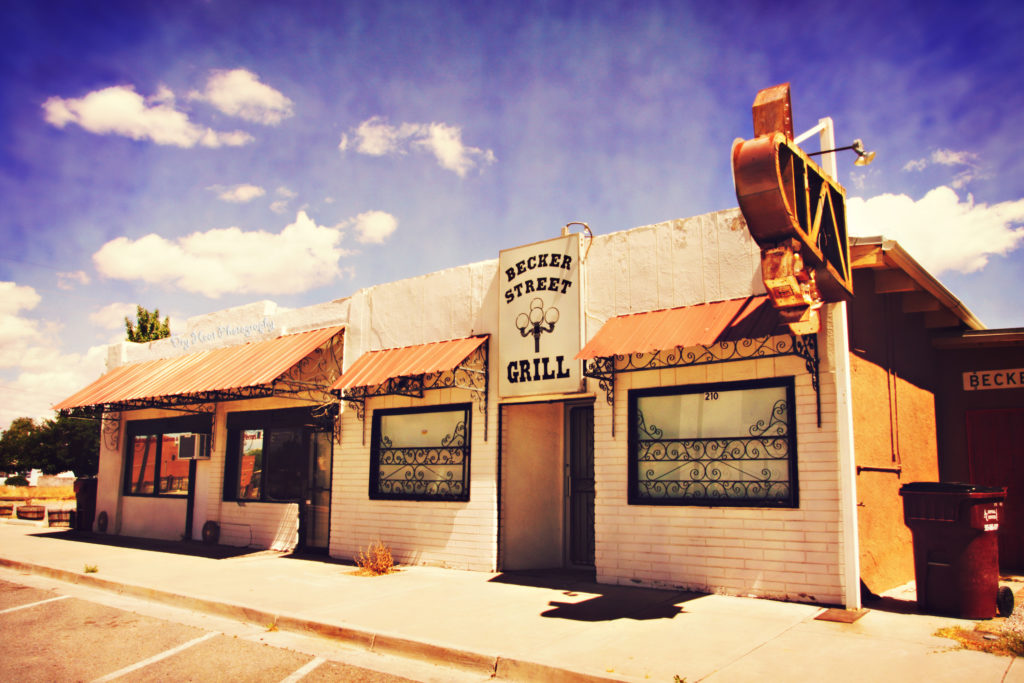 Garcia House and Grocery
The house pictured above and the grocery store pictured below were (are?) owned by the Garcia family. If you scroll back up to the Sugar Bowl Lanes, you'll see that Marvin Glidewell was married to Eva Garcia Glidewell. Eva was the proprietor of the E. Garcia Grocery located across the street and up just a bit from the bowling alley. The street number on the gate of the house is 112 Becker Ave and the bowling alley is (was) at 219 Becker Ave.
I found Eva's obituary in the Albuquerque Journal. She was a long time resident of Belen, New Mexico. Eva was born in 1922 and died in 2013.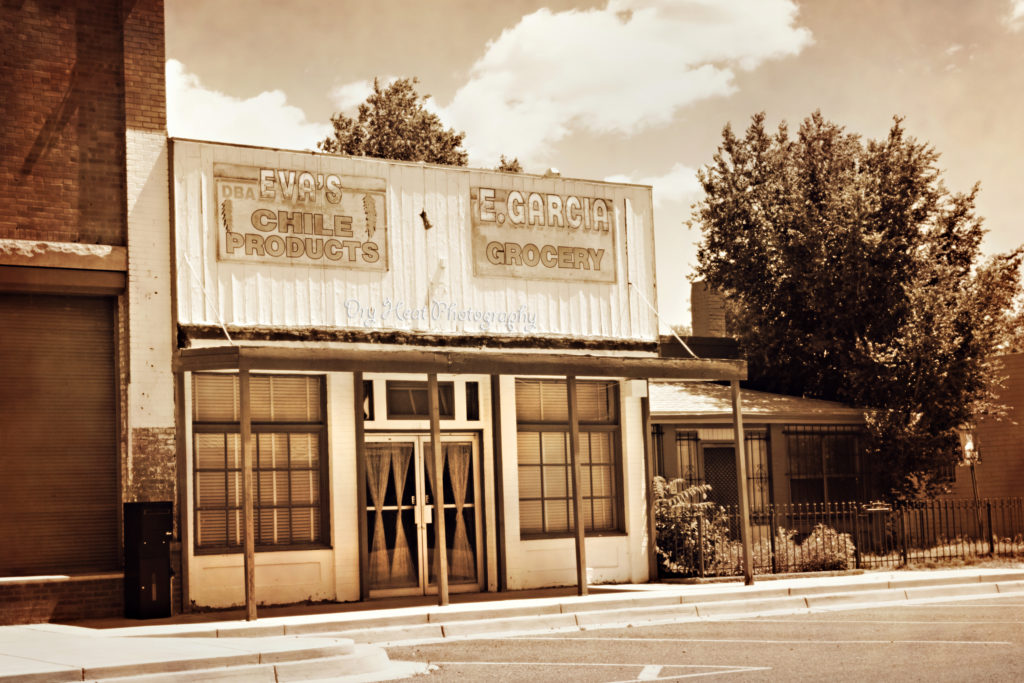 The abandoned Kuhn Hotel in Belen, New Mexico
I discovered the Kuhn Hotel entirely by accident. After walking around Becker Avenue in the Historic Railroad District of Belen, New Mexico, I was headed back to my car and saw what I thought was part of an abandoned house on the other side of the underpass. The structure turned out to be much larger than I originally thought and, after doing some digging, I found out its name is the Kuhn Hotel.
Right off the bat I would like to remind anyone who may be reading this and forming mischievous ideas that the Kuhn Hotel sits on private property and is monitored by surveillance cameras. With that in mind, don't get too close. Take only photos and leave only footsteps. For crying out loud, don't go breaking any windows.
The Kuhn Hotel sits precariously close to the overpass that takes Reinken Ave over the railroad tracks. It is so close that there is no way to get a shot of the entire front of the hotel except by standing under the overpass. I don't recommend it, but a person could probably jump from the overpass onto to the roof of the Kuhn. Additionally, this is a dead end road that terminates just past the little house that is next door to the Kuhn. There is no parking and no quick way to escape should things go sideways.
A brief history of the Kuhn Hotel
The Kuhn Hotel was built by Ruth Kuhn in 1906. This hotel was the first building to have a public bathroom and today it is the only surviving two story adobe structure in Belen. It is unclear at what point Ruth Kuhn relinquished ownership of the hotel but in 1960 it was owned by a man named Oliver Blais and, at that time, the Kuhn was known as the City Hotel. Today, the Kuhn Hotel is owned by the granddaughter of Olver Blais, Joan Artiaga.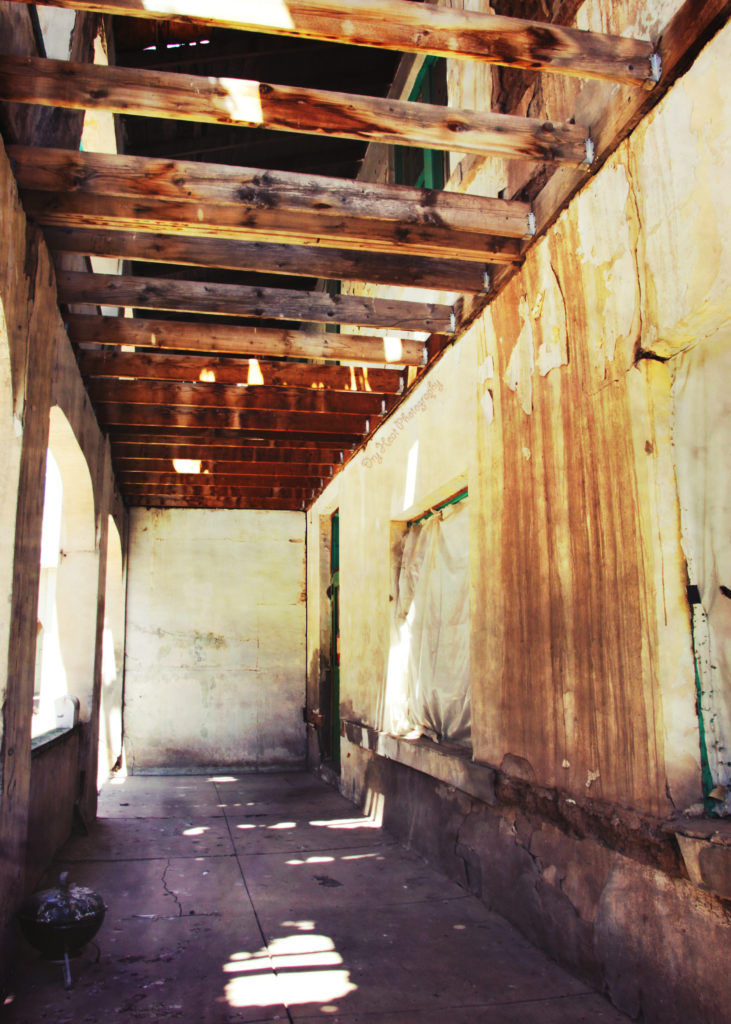 A few other interesting sights in Belen, New Mexico
Onate Theater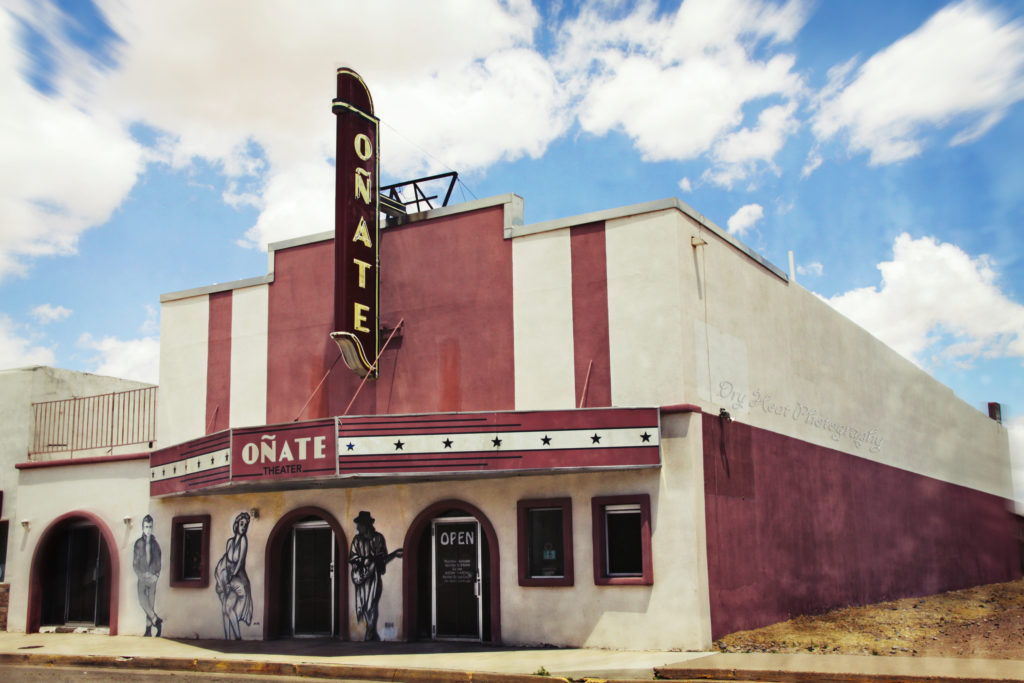 The Onate Theater, located at 700 Dailies Ave in Belen, New Mexico currently sits vacant and I think it's for sale. The Onate was built in 1932 and was originally a movie theater but became a restaurant and event center in the early 2000's.
Garley's Party Doll Gas Station, Liquor Store and Event Space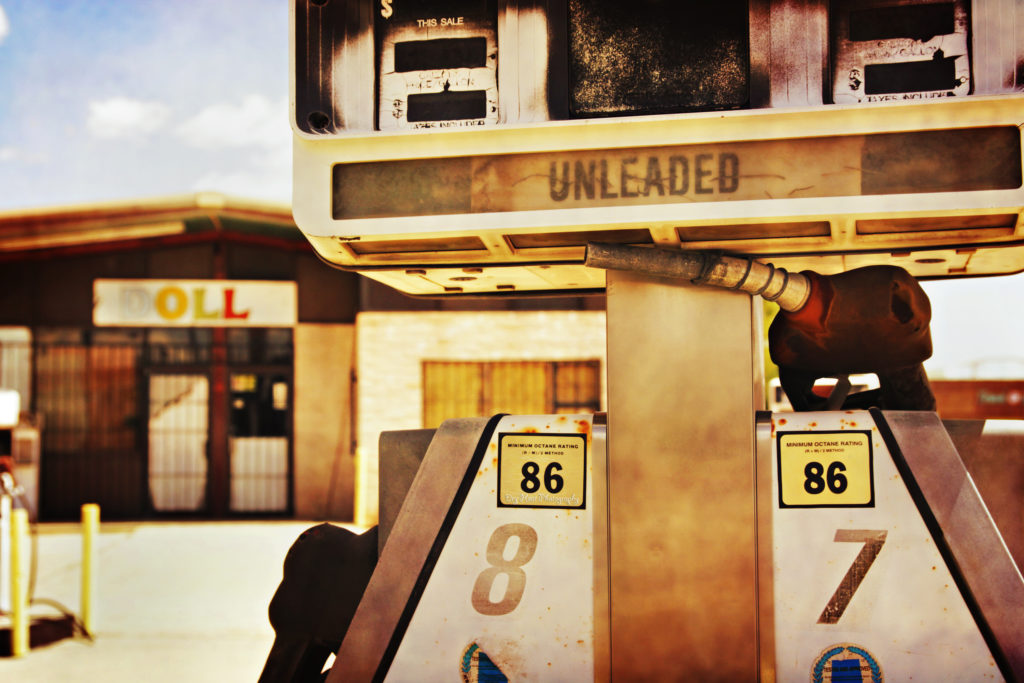 I wandered into Garley's Party Doll, located at 600 Reinken Ave in Belen, New Mexico because I thought it was just an abandoned gas station with a curious multi-colored sign out front.
The pumps are so old that gas has obviously not been sold here for a long time. Upon closer inspection, it seems that this place was more than just a gas station. A peak through the front windows reveals what looks to be an abandoned liquor store (why not take all the bourbon if you're going close up shop?) with an event space behind it. The Budweiser banners that read "Welcome To Party Doll" make me go, "hmmmm". Is it me, or does "Party Doll" seem like an unfortunate choice of name? I'll just leave it at that.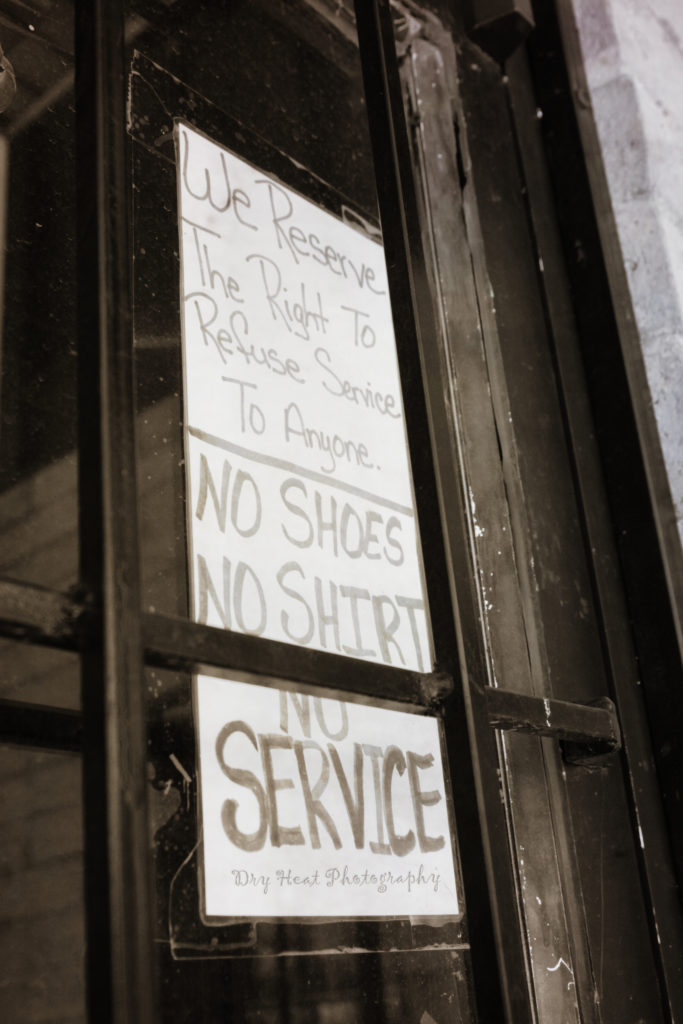 Abandoned Car Wash
This car wash is so swanky given its location in the relative middle of nowhere. If you take the Manzano Expressway south from Meadow Lake Road, this car wash sits right where the Expressway meets up with HWY 47, also known as Rio Communities Blvd.
Abandoned Car Dealership
This abandoned car dealership is next door to the car wash but the dealership is right on HWY 47. I remember seeing it open way back in the day but don't recall exactly what kind of dealership it was. A Twitter friend tells me it was a Tillery GMC.
Author's note
These photos were shot on May 25, 2020 and this post was originally published to the old Dry Heat Blog in June of 2020.